Gourmet Goodness Direct To Your Door

Subscriptions
Over the years we have served breakfast to hundreds of people and the one question that comes back to us time and again is "but where can I get your granola?!"
Well for those people we finally have an answer. We are launching our very own granola subscription for just £12/month this year.
What is a Granola Subscription?
Our Granola subscription is a postal service, we will send you 750g of our delicious granola every month (equivalent to about 3 store-bought packets per month). The difference being that our granola is made fresh and packaged for you within hours rather than mass produced and shipped nationally so you will immediately taste the difference in quality and value.
How Much is it?
£12/month for 750g including UK postage.
Brownies & Hampers Direct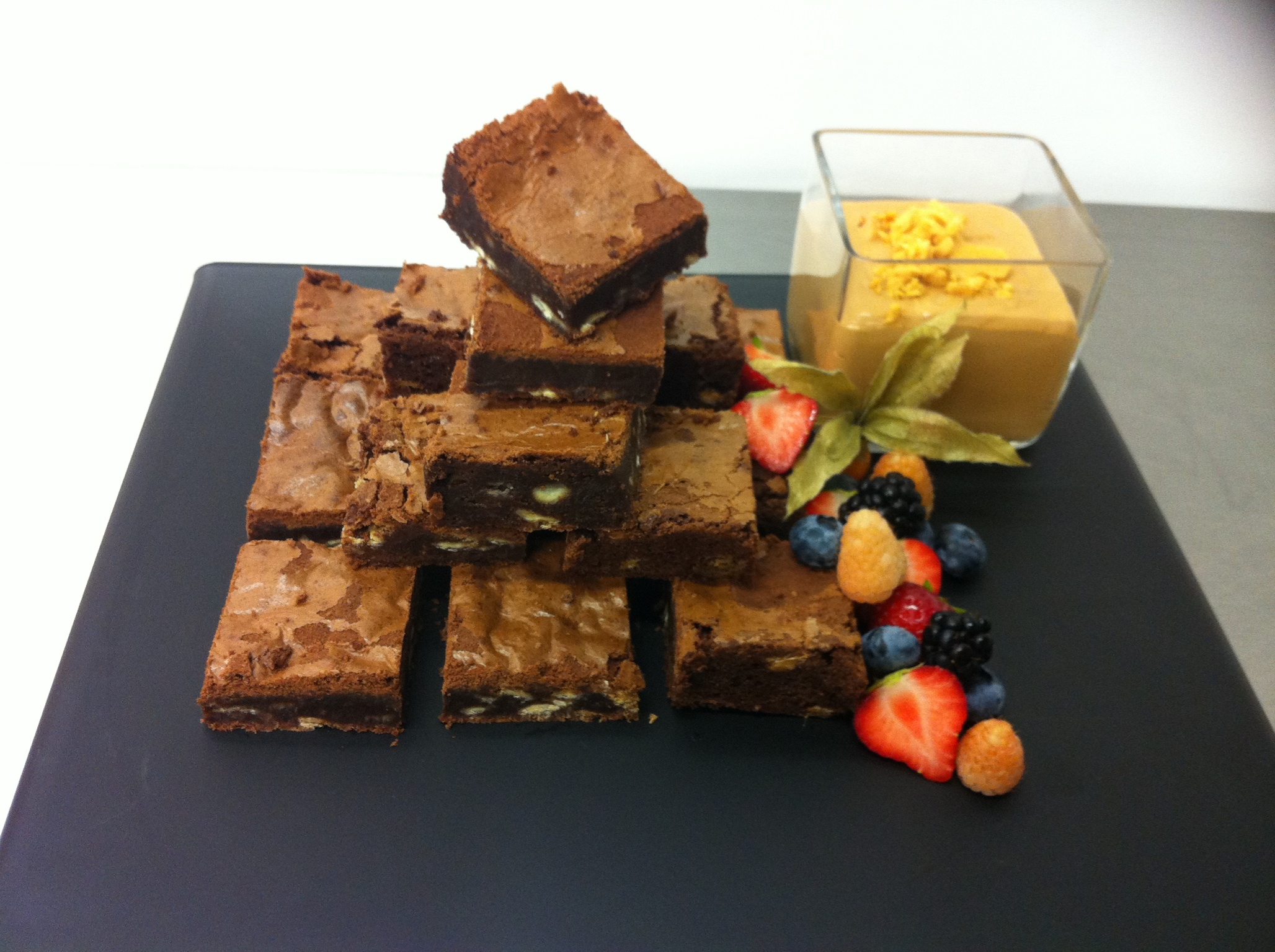 Brownie Hampers
Sometimes we just need a little something to say "Whoop!" or "Thanks!" or "Hey it's Saturday let's celebrate!" For those (and many other purposes) our brownie hampers are the perfect solution.
These brownies are well known among our regular clients, some might say the stuff of legends so what better way to show your appreciation for your colleagues and contacts, or to celebrate a milestone…
"… And by far the best brownies I've ever had in my life!"

"We also had mountains of dessert served afterwards, with the Brownie being one of the most incredible things I've ever eaten – Colleen, I will be in touch soon to enquire about ordering a batch!"
How does it work?
This is a simple order delivery system. We do bake fresh so we need a bit of a lead time but apart from that it is straight forward. Simply order your brownies online Order by Monday for Friday delivery and we will do the rest.
Hamper sizes
We are currently offering two sizes of hampers
10 pieces – £20 including UK P&P
Our Luxury Christmas Hampers are an ideal gift for family friends and work colleagues or simply as a little treat at home. We have teamed up with Wine Social to bring you top quality wines, port & prosecco that perfectly complement the mix of luxury sweet & savoury treats we have prepared especially for you.
Jam packed with handmade goodies including sweets, cakes and biscuits as well as savoury crackers and chutney there is something for everyone and plenty enough to share.  Place your order for delivery within 10 miles of our kitchen in Elstree, Hertfodshire throughout late November and December
Large Hamper – From £100
Our Large Hamper contains:
2 x Bottle of Wine (red/white)
2 x Tartlet*
3 x Cheeses
Homemade parmesan crackers with mixed seeds
Picallili
Fruit Chutney
Carrot Cake
Fruit Cake*
Brownie
Macaron*
Mince Pies
*These items contain nuts all items may contain traces of nuts
Small Hamper – From £60
Our Small Hamper Contains:
1 x Bottle of Prosecco
1 x Tartlet*
2 x Cheeses
Homemade parmesan crackers with mixed seeds
Fruit Chutney
Carrot Cake
Brownie
Macaron*
Mince Pies