So you are planning a large scale party – chances are you are celebrating a milestone of some sort, wedding, engagement, christening, anniversary or big birthday. So, what next?
Choosing an event venue for your party is a pretty key decision. There are so many options available. Here's our breakdown of the situation to get you started.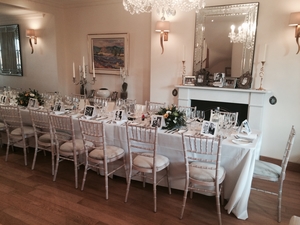 This can be quite a big undertaking but you get the home-game advantage. If you have the space you could set up a marquee in the garden or perhaps it will make more sense to use your home itself. This approach lends itself to an event where guests are all close friends and you will have plenty of help. Limitations come around space in the averagely sized home and the clear up effort afterwards! Of course you can still always hire in pre and post party help with set-up and clear-up if budget allows
This might be a hotel, country house or conference centre. This is great for the just book and turn up approach to your event. Generally speaking your venue will meet with you to discuss your requirements and once agreed they will take care of everything from catering to room dressing to staffing the event. The only limitations being any set by the venue itself in terms of what they can offer and the facilities available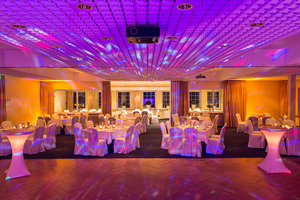 This is a technical term for venues that hire out just the space and offer you the freedom to tailor your space to your requirements. It is a sort of
happy medium between option one and two you get the freedom to tailor your services but the space to throw a big bash if required. This type of venue usually allow you to bring in your own decorations, caterers and entertainment enabling you to create exactly the atmosphere you need. Limitations may include preferred suppliers lists and availability.
As external caterers we have seen the inner workings of many a dry-hire venue two of our favourites include:
This large hall right in the heart of London's Marylebone is a part of the West London Synagogue, however, it is available for anyone to hire. It is a versatile space that can be dressed to look spectacular and represents amazing value for money given its size and location. The facilities at the venue are excellent and of course you are only a short walk from a main tube station making it super accessible for your guests to attend.
For a more informal experience Home Farm Glamping is a really great option. Open May – September and a short train journey from London, this venue provides a unique setting for a party and lends itself to a carvery style buffet or spit roast very nicely. Another great plus is that guests can simply fall into their yurt at the end of the night – pure bliss!
For more tips on what to look for and ask in your venue search check out these tips from the experts at Bellamy Central
If you are catering at home or looking for caterers at your venue Sainlo Events would love to discuss your requirements get in touch today.
Once your venue is sorted you need to plan your party menu