Increasingly couples are taking more control over the plans for their weddings. Rather than buying off the peg, as a society, we want to bring something of ourselves to our wedding celebrations – and who can blame us? 
This could mean booking a planner and downloading all of your hopes and dreams to them. Inviting them to source service providers who can deliver  your personal touches and your theme perfectly.
Equally you may be personally sourcing and planning each service provider for the day and liaising with them individually.
Either way, the process can be daunting and exciting in equal measure and at times you might feel overwhelmed by jargon, or simply not know where to look for the exact thing that will, for you, embody perfection. 
What follows are a few things to consider when choosing your wedding caterer, which we hope will help you to enjoy the process a little more. 
 Things to Consider When Choosing Your Caterer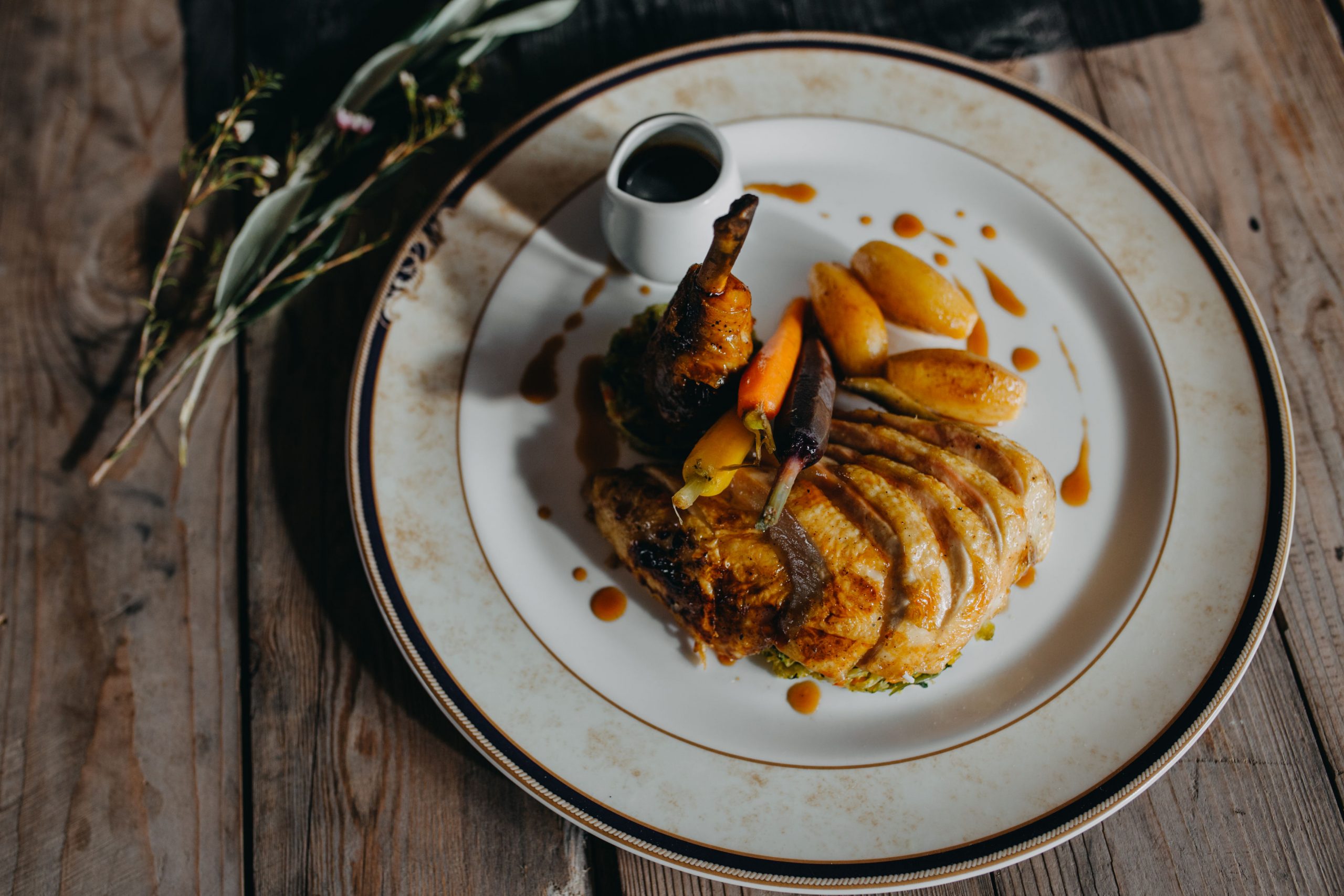 What are you trying to achieve overall?
What do you want from your day. The role of each of the services you engage for your wedding is to help you to make your dream wedding a reality. Lots of couples have a really clear idea of what they want and, as a wedding caterer, this is great because we can immediately tap into those ideas and design a menu that complements the overall theme and atmosphere intended.
On other occasions, our couples are not so sure what they want and they turn to us for ideas and suggestions. We love the creativity this allows us too, if you have lots of ideas at the start and aren't sure which direction to take you can give your caterer all the options and see what they come up with for each – you may find that helps to focus your ideas down to one or two possibilities. 
What is your venue providing that will help to achieve your overall aim? 
Often a venue booking is made completely on instinct – you just love it –  it fits with your perception of everything that your wedding should be. That might be a formal manor house or equally it could be a huge stretch tent in an enormous field.
It doesn't matter what made you fall in love, to you it's perfect. What can sometimes be a bit trickier to do, is to explain that to someone else. This may not seem that important, and in some ways it isn't, but if you are able to share your inspiration about a venue it may spark new and creative thoughts for your other service providers  – allowing for an altogether more epic outcome. 
You may have chosen your venue because it lends itself to a particular style of wedding meal that appeals, or it may be that you like the informality of the venue but you enjoy the juxtaposition of a traditional style wedding breakfast in a festival tent.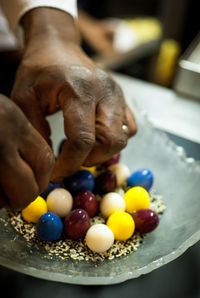 What role do you want the meal to play in your wedding celebration?
Is food a centrepiece or a sideshow?  Have a think about where you sit within that scale and try to convey that to your caterer as it is another factor that gives a good starting point for your conversation. 
Also in practical terms, what time is your ceremony? This will impact the last time your guests managed to grab a meal before they arrived. A 1pm wedding, for example, impacts lunch meaning that guests are quite hungry at the wedding breakfast. Also, will there be a bar? Are your guests likely to be drinking significantly? – the food plays a role here in ensuring your guests are in a position to enjoy your day with you from start to finish.
What kind of budget do you have for your catering?
This doesn't have to be set in stone but it is great to have an idea in mind. Most caterers will work on a per head basis and the final quote is going to depend on what exactly you order and the style of service. More formal settings will tend to cost more because of the additional equipment and staffing required. Less formal meals can help to save on budget but remember that quality ingredients and an experienced team bring a real value to your meal that it is worth budgeting for. Whatever you opt for be realistic – your catering is going to make up a significant percentage of your reception budget.
You need to ask upfront whether quotes include service staff and tableware hire or if those costs will be added on afterwards. Sometimes they are sometimes they aren't, it depends on the company, but it is one of those things it is worth asking at the start. You can request an all inclusive price but if you don't, make sure you have allowed something in the budget to cover those costs, otherwise you could find you have blown all the budget on your food and guests are eating off paper napkins! 
Before you speak to your shortlist of caterers find out from the venue what they allow in terms of catering. Ask what has worked well for events they have hosted previously. Ask what equipment is available for a caterer, whether they only us specific caterers (or one from a preferred supplier list) and also think about what kind of service you want.
A good caterer will welcome a challenge and should be able to offer you solutions and suggestions for your requirements, but it is good to think them through beforehand so that you don't feel flawed by the first series of questions your prospective caterer raises with you.